Hawa Mahal Jaipur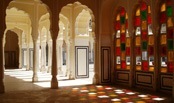 The renowned 'Palace Of The Winds', also known as the Hawa Mahal, is one of the protuberant tourist attractions located in the city of Jaipur, especially in the heart of Jaipur. This amazingly magnificent palace is 5 storeyed and was constructed in the year 1799 by Maharaja Sawai Pratap Singh, who had his roots in the Kachhwaha Rajput dynasty. The key architect behind Hawa Mahal was Lal Chand Ustad. The palace was constructed in the mixture of red and pink sandstone. The shape of Hawa Mahal is in the form of the crown of Krishna, the revered Hindu God. The 'Palace Of The Winds' showcases magnificence of Rajputana architecture and its key highlight is the artistic pyramid shape that holds within it intricately designed 953 windows or 'Jharokhas.'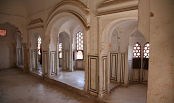 There was only one significant reason behind the construction of 'Palace Of The Winds' – to help the royal woman in taking a bird eye view of the everyday life. As a tradition, the royal women were never allowed to come in open public or interact with the masses. Sawai Pratap Singh was the grandson of Maharaja Sawai Jai Singh, who made all the efforts to build Jaipur and construct 'Palace Of The Winds.' The 'Palace of Winds' happens to be one of several royal city palaces which were constructed during the times of Sawai Pratap Singh. The sophisticatedly designed windows artistically carved balconies make real difference to the very style and innovation. The architects have designed Hawa Mahal on the concept of Purdah System that was quite prominent in the Rajputana culture.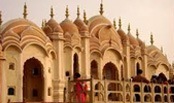 The very design of Hawa Mahal gave royal woman freedom to come close to the city life, without being the part of it. Royal woman could take the view of people around.
There are several prominent tourist spots lying in the close proximity of the Hawa Mahal, including the popular Jantar Mantar, Ram NiwasBagh, Amer Fort, Nahargarh Fort, BM Birla Planetarium, Jain Temple, Statue Circle, and Sisodia Rani Garden.
Hawa Mahal is a courteous castle showcasing small windows. In the five storeys of the Hawa Mahal, only the top of three storeys show thickness of single room, while the bottom storeys have artistically created courtyards. The interior structure of Hawa Mahal is blatant and simple with uniquely designed passages and pillars making it to the top storey. There are no stairs in the Hawa Mahal. In fact each of the floors is connected by network of slopes.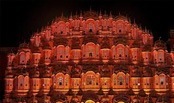 Hawa Mahal, which is a true personification of Rajput architecture, and is a prominent spot situated at very citadel of Jaipur city. Undoubtedly, Hawa Mahal holds sense of archetypal aura shown by its very exclusive and unique appeal. Visit Hawa Mahal and feel yourself in one of the rare most architecture, where you will see yourself standing amidst the balance of style and Rajputana exuberance.
Hawa Mahal gives a superb view of whole city and it is indeed a superb archeological museum that is revered even today and liked by tourists from different regions of the world.