Taj Mahal at Sunset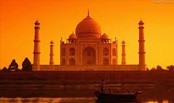 Taj Mahal is the seventh wonder of world, but it is also one of the blessed wonders for the lovers. If you have been smitten by eternal love and want to express it in the presence of your beloved one, express it right at Taj Mahal during the sunset. During the sunset, Taj Mahal shows up a totally romantic mood and this is what ultimately set the lovers on. If you do not believe, go at least once.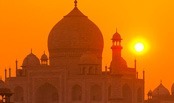 Generally, the exuberating beauty of Taj Mahal is worth praising all the time, but during the time of sun set, it is exemplified and shows up as poet's very own poetry. The calm and serene environs with backdrop of river Yamuna all of it lends uniqueness and paucity to the Taj Mahal's surroundings. It would be a good idea to take your camera along to shoot this extempore rendition of nature. Being at Taj Mahal in the sunset holds wider connotations for different people. For those visitors who have immense respect for the beauty consider the sunset time as the most exciting moment to watch the Taj Mahal. It is during this time that Taj Mahal looks more beautiful than any other time. The complete architecture glistens in moonlight. One will hardly come across this type of scenic beauty anywhere.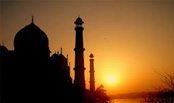 The great Taj Mahal was constructed by Shah Jahan in the loving memory of his third wife. The very marvel of this grand architecture cannot be described in words. It has blissful aura and beauty. The beauty of Taj Mahal has been described by many pots from time to time. There are also several couplets of poetry written on Sun Set at Taj Mahal. For poets, it is a gifted moment to describe beauty Taj Mahal during the sunset. As far as visitors are concerned, that can do a lot of photography as during the sunset, the whole surrounding around Taj Mahal bring transformation. It is the sheer result of this transformation that unique aura is generated altogether.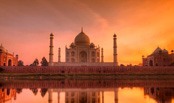 There is no need to carry a guide because in this case your privacy will be disturbed and you will not like this to happen. Taj Mahal has its beauty and grace that undergoes the transformation during different tome intervals. Whether it is evening, or morning or sunset, the beauty of Taj Mahal is worth praising. After a photo session, you can go for an eating session as there are many local eatery shops around the Taj Mahal. You will enjoy having typical Mughlai food, holding your beloved one in arms.
If you have not made the plans to visit the Taj Mahal during the sunset, make it right now. Do not miss the opportunity to be at the Taj Mahal site during the sun set and see how great you will feel about everything. Just make sure that you have your beloved one with you. There cannot be anything more romantic and sensual than watching Taj Mahal in the sunset.