Raj Ghat- a memorial to Mahatma Gandhi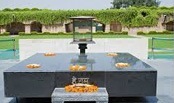 Raj Ghat is the memorial constructed in the memory of Late Mahatma Gandhi – the father of nation. It was here that last rituals were completed in the year 1948 and on January the 31st. Raj Ghat holds reverence in the heart of every India and also the tourists from across the globe. Various diplomatic dignitaries visiting India make a note to visit Raj Ghat and pay their homage to father of nation. The mausoleum is situated close to the south eastern part of Red Fort on one of its side and banks of river Yamuna on the other. Raj Ghat or the Samadhi of Bapu Ji presents a simplistic architecture fenced by well kempt and properly trimmed lush green gardens covering huge land. The Samadhi is constructed from rare black marble and given square shaped structure. The Samadhi holds as an inscription - "Hey Ram." These words were uttered by Bapu during his last breath, when he was shot by Nathuram Godse.
There is flame which continues to burn in the black platform encased in copper urn.
About Gandhi ji – The Father of Nation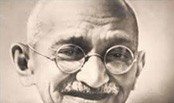 Gandhi ji or Bapu was given the title of "Mahatama" by the people of India, and it meant "the Divine Soul." He was the landmark individual who had taught theories and lessons of Satya (Truth) and Ahimsa (Non-Violence) not only to India but to people across the globe. His teachings and principles proved successful during the times of India's freedom struggle. Mahatama became the cynosure of everybody's eyes and was given a revered status.
The Gandhi Memorial Museum displays several of possessions of Gandhi and including the rare photographs from his life. The museum lies quite close to Rajghat. A beautiful mosque or Zinat-ul Masjid also stands to North of Raj Ghat.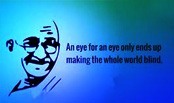 Lying close to the Raj Ghat are cremation sites of many popular national leaders including Pandit Jawaharlal Nehru (Shanti Van), Shree Sanjay Gandhi (Shanti Van), Shree Rajiv Gandhi (Vir Bhoomi), Pandit Lal Bahadur Shastri (Vijay Ghat) and Smt. Indira Gandhi (Shakti Sthal).
Several of dignitaries who visited Raj Ghat planted trees near the Samadhi. These include Ho Chi Minh, Yaser Arafat, Colonel Nasser, Marshal Tito, British Queen Elizabeth II, former US presidents named Dwight Eisenhower and Ronald Regan, former Australian Prime Ministers Gough Whitman and Paul Keating respectively.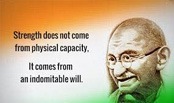 Off late, Raj Ghat is a popular tourist destination and it is open for all tourists, irrespective of which religion or caste or cred they belong. The mausoleum also holds immense social and political value to political leaders. The leaders make it appoint to visit Raj Ghat on Oct 2 for the prayers. On this occasion, several cultural programs are organized. There is also a commemorative ceremony organized every Friday at Raj Ghat.
All the activities at Raj Ghat are managed and organized by independent statutory body- Raj Ghat Samadhi Committee. The committee was created under an Act of Parliament of India, known as Raj Ghat Samadhi Act, 1951. Raj Ghat is the place that is synonymous with dedication, devotion and non-violence.