Jantar Mantar of Jaipur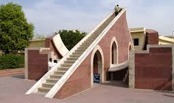 Jantar Mantar of Jaipur is an observatory built by Maharaja Jai Singh II in 1720s. It is the observatory that is a unique combination of science, art and religion. Jantar Mantar of Jaipur is amongst the largest of 5 observatories. The remaining astronomical observatories are located in Jaipur, New Delhi, Ujjain, Varanasi and Mathura respectively. The unique term 'Jantar Mantar' is created from the references of Sanskrit terms 'Yantra' and 'Mantra' which in actuality symbolize 'instruments' and 'formula'. Here, the meaning of word 'Yantra' was later on replaced by 'Jantar' which is 'magical'. The Jantar Mantar has several old architectural and astrological instruments, and these instruments have undoubtedly catches the imagination of not only the astronomers across the globe, but also architects and historians.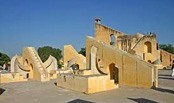 Maharaja Jai Singh II, who is given the credit of founding 'pink city' had a scholarly tone and held immense interest in the astrology. So much was his interest in studies that he went to different institutions and gained knowledge on different subjects like philosophy, astrology, architecture and religion. His interest in studies made him knowledgeable about the prominent mathematical concepts such as Euclid's Clements, Ptolemy's Syntaxes and not to mention about the Master works of Aryabhatta.
The Jantar Mantar observatory at Jaipur had been renovated several times and holds different types of astronomical instruments that hold value and significance even in the modern times. The observatory was also the place of lengthy discussions about the astronomy, participated by scholarly astronomers, like Pt. Kedarnath and many more.
As per the historical records, the Jantar Mantar of Jaipur was put in the service for a period of 7 years approximately, for the simple reason that Maharaja wasn't able to make successful and precise calculations of the astronomical movements. Nevertheless, it was a superb astronomical observatory considering the fact that such observatories were very rare to exist during those times and moreover, very few people had idea about the astronomy in general.
The popular tourist attractions that you will come across around Jantar Mantar of Jaipur include Jaipur City Palace, Jaigarh Fort and the interesting Galta Monkey Temple. To be precise, Jantar Mantar is a remarkable collection of astronomical devices that were built on the concept of architecture. No mechanized instruments were used to calculate the events of days. The whole structure was constructed in the form of architectural building and this is what makes it all the more unique.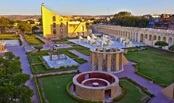 Jantar Mantar of Jaipur is indeed a master piece and such astronomical observatories are very few. It will be a matter of pride to visit this renowned observatory.
Get ready to plan the trip to Jantar Mantar of Jaipur and explore one of the oldest observatories astronomical sciences. You will definitely find the interest and will become completely awestruck on seeing some really great and amazing instruments that are considered equally advanced as the modern scientific astronomical equipment. Keep in your mind that you accompany a tour guide, who will be a guiding light and tell you more about the Jantar Mantar and its history.