Khan Market - favourite of expat & diplomatic community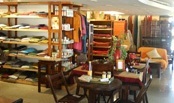 Elegant and posh, Khan Market is among the list of favorite shopping places of expat and diplomatic community. It was initially allotted to immigrants from the North-West Frontier Province who had migrated to India after the partition. In today's context, Khan Market has become a famous shopping destination in Delhi. The market is U-shaped with two parallel 'U's and extends further. Khan Market holds under its garb fabulous book shops, up-market boutiques, grocers, tailors, brand showrooms, opticians, and amazing life style stores. The market also has several stylish boutiques busy selling highly exclusive up-market domestic fixtures and much more. As you cross the road, you could easily catch the view of glitter and fascinating lights. Here, you can shop around and find put the best and classy range of lightings. It is worth shopping here. When it comes to eating and finding out the best quality food outlets, Khan Market is again the best option. There are several kinds of eating joints, such as the cafes, restaurants, bakeries and street-food corners.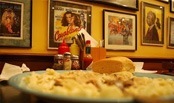 If you want to enjoy some spicy food, your best stopping place could be Khan Chacha. In fact it is the landmark for those who come in search of typical Indian and Mughlai special food. Ask for the awesome Tikkas or order Seekh Kebabs; you get the mouthwatering delicacy ready. If you want to try your hands at Silver Jewelry, go for Amrapali and some other equally fascinating Silver Jewelry store market. It is all about the way you want to get around at Khan Market.
Popular retail outlet stores in Khan Market: FabIndia, Raj stores, Sanjiv Mehra's Allied Stores, Cooptex, Allied Party Xpress, Aamayo, Route 04, The Kitchen, Market Cafe, Cafe Turtle, Albake, Big Chill Cafe, Cafe Zaffiro, Barista, McDonalds, , National Cloth House and Khadi Gramodyog.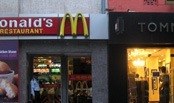 Khan Market or Khan Bazaar came into existence in the year 1951. The market was named in the honor of Khan Abdul Ghaffar Khan or the Frontier Gandhi or the Badshah Khan. As per the recent records, Khan Market has been ranked amongst the costliest retail markets of India. In the year 2010, it was ranked as world's 21st most luxurious retail high street markets by the prestigious real estate firm called as Cushman and Wakefield. Undoubtedly, Khan Market is amongst very few markets that have been consistently ranked as the high end streets that are thronged by politicians, and people from rich and elite class.
The market started building up its commercial character in the early 1990s. Lying adjacent to the Khan Market is the "Sujan Singh Park", which happens to be New Delhi's first apartment complex, constructed in the year 1945, and designed by Walter Sykes George. The name of enclave came to be known as "Sujan Singh Enclave," named after the grandfather of noted Indian journo – Khushwant Singh.
Close by lies the luxurious hotel named - "The Ambassador." The hotel was constructed in 1945 by Walter Sykes George. It exalts the mélange of British and Art Deco style interiors and exteriors. The hotel itself has turned out to be the heritage property and is taken over by Taj Vivanta chain.